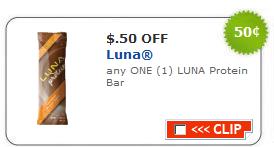 There are new organic coupons available on the Mambro Sprouts website and there are a couple you may want to print out:
$0.50/1 Luna Bars coupon (if you have a store that doubles coupons, you can get the single bars free when on sale)
$0.75/1 Santa Cruz Organic product coupon ($1.99 minimum purchase). The coupon I just printed expires on 7/31/11. The Santa Cruz organic Lemonade usually goes on sale around the summer for $1.99 or so. So you can get it cheap with this coupon.
Other great coupons include
$1/1 Stonyfield Farm Yobaby or Yobaby Meal Organic Yogurt or 1 4 pack YoBaby Drinkable Yogurt
$1/1 Peanut Butter and Co. product
$1/2 Happy Baby Products
$1/1 Lightlife Product
$1/1 Uncle Matt's Organic Juice
$1/1 Lifeway Organic Kefirs
Click here to visit the website where you can print these coupons.  Thanks, Couponing in Critical Times!