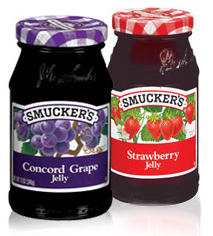 There is a new $0.75/1 Smuckers jelly, Jam or Spread coupon available.  Use zip 90210 to find it.  It's  great timing for this coupon as a lot of these products are on sale are part of back to school sales at grocery stores.  As a matter of fact, you can use it at Stop & Shop this week to get this deal:
Buy five Smucker's jelly $1.99, and get $5 instant discount
Use four $0.75/1 Smuckers coupons (will need access to two computers)
Free plus $1.05 in overage
So, make sure you have something extra in your order to absorb that overage.  Find more Stop & Shop deals here.