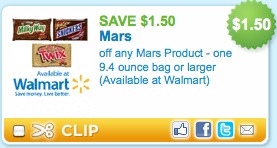 Print this very hot $1.50/1 Mars Candy printable coupon  I have never seen such high value coupon and you can use it to get paid to buy your Halloween Candy this year.
You can get this deal through the end of today
At Walgreens
Mars Candy Fun size $1.99
Use $1.50/1 printable coupons (Use zip 90210)
Pay 49¢ per bag
AT CVS
Buy four bags of Mars candy 4/$10
Use $1.50/1 printable coupons (Use zip 90210)
Pay $4 and get back $3 Extra Care Bucks
This is a manufacturer coupon that prints with the Walmat logo.  Any store that accepts manufacturer coupons should be able to take it as they will be reimbursed.  But an idea if you are concerned is to take the Walgreens ad and price match at Walmart.  Then you would not have any issues.
Also, this coupon expires on 11/30 so feel free to hang on to it and use it on Halloween Candy clearance to probably get very cheap or even free candy.  Not that you will be needing any if your kids have a good haul trick or treating, lol.