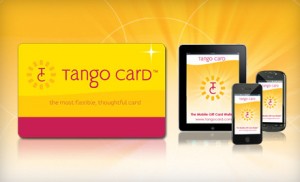 This is sold out now.
Here is a very inconspicuous offer from Groupon today. You can get a $10 Tango gift card for just $5. Limit 2 per person.   According to the deal description
Patrons convert their Tango Card's cash balance into gift cards to more than a dozen name-brand retailers such as Amazon.com, Target, Home Depot, REI, and Pottery Barn, with no additional purchase fees.
So you can convert this $10 credit into the gift card of your choice. I just bought this deal and it is not available for use until tomorrow, so I was not able to verify it completely myself. i thought I ought to let you know.
Thanks Mashup Mom!