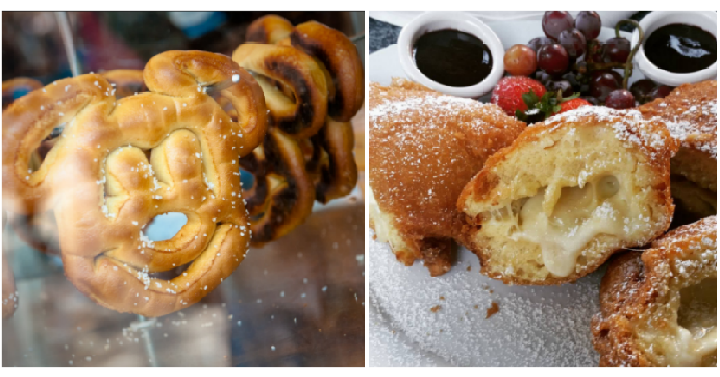 Food at Disneyland is expensive. Not gonna lie. Our family tries to only go out to a meal one time in the park and then pack in the rest of our meals. So that meal we eat out has to be a good one! We take time in choosing and deciding where to go. We also tend to grab a snack or treat each day too. Because it's Disneyland, and hey, there are some seriously yummy food options. Here are a few that you don't want to miss:
Matterhorn Macaroon. This yummy treat is located at the Holly Jolly Cafe.
Dole Whip. Refreshing drink located in the Adventureland. Even though the line is ALWAYS long, it does go by rather quickly.
Sourdough Bread bowls. These are located in New Orleans Square. Different gumbos/chowders to choose from.
Corn Dog Carts. Need I say more?
Jungle skewers. Located in Adventureland at the Bengal Barbecue.
Churros. Located just about everywhere and main street. So yummy.
Pretzel Carts. Different flavors and yummy as ever.
Monte Cristo. Located at Cafe Orleans. Could be big enough to share.
Rotisserie Quarter Chicken. Located in California Adventure at Flo's V8 Cafe. If you need a homemade meal, this is it. Complete with mashed potatoes and veggies. Fun scenery right by Radiator Springs Racers so you can watch the cars go by as you eat.
Burger and fries at Red Rose Taverne located in Fantasyland. If you need just a good burger this is it. It comes with Pommes Frites which is basically fries with rosemary/garlic seasoning and oh so good.