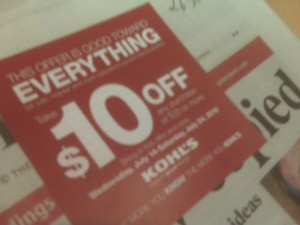 This offer is HOT and I am bummed it is only available for certain states.  But those of you living on the following states: CO, AZ, CA, ID, NM, NV, TX or UT make sure not to miss this.  The front of this morning's newspapers has a coupon good for a $10 off $20 purchase at Kohl's.  The coupon is valid July 14th through July 24th in stores only. It is good on all regular, sale, and clearance items and can be combined with % off coupons.  This coupon should help you score some awesome deals on back to school clothing.  I even think it may be worth buying more than one newspaper (spend $1 per newspaper save $9?).
Thanks Bargain Blessings!
EDITED to ADD:  If you live in any of these states and have found the coupon in your newspaper can you leave a comment sharing where you found it?  Thanks!  Other readers want to know which newspapers had it.