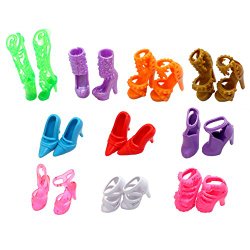 Keep your Barbie in high fashion with this set of 10 pairs of doll shoes for just $3.80!
These shoes should fit most Classic Barbie dolls and similar size dolls. 
100% Brand New Doll Shoes, Set of 10 as shown in image;Compatible with Barbie dolls;Barbie Dolls is not affiliated with Toy Doll Clothes. Barbie, Reg. Trademark of Mattel,Inc.
Resources You Might Like: