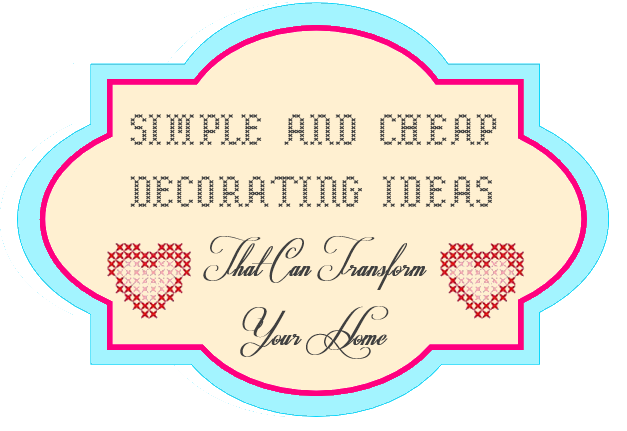 Redecorating your home, or even just one room, can seem like an impossible prospect. Most people think that redecorating has to be expensive to be noticeable. A lot of people also believe that redecorating is too difficult or they aren't skilled enough to tackle a decorating project. However, that's not always the case.
I'm the type of person that is constantly improving and changing my surroundings. Since I don't have gobs of money to throw into decorating projects, though, I've learned to make do with what I have. Since I've had my own home, I've come up with several simple and cheap decorating ideas, all of which I use in my own home.
The following list contains eleven simple and cheap decorating ideas that you can use in your own home. You don't have to do all of the rooms at the same time, since this could prove very costly. Instead, opt to do either one room at a time or make one change at a time.
1. Break Out the Paint
The first cheap decorating trick is…paint! I love paint! I'd paint my cat, if she'd let me. Painting is a cheap decorating trick that you can use to completely change the look of any room. If you're feeling gutsy, you can even paint over wallpaper and wood paneling. Just make sure you prep it properly first. For a bold statement, you can paint a design on your wall, such as wide stripes in contrasting colors or a stencil around the top of the wall near the ceiling. If you live in an apartment that you can't paint, you can always paint giant canvas panels that can be hung on your walls and removed when you leave.
2. Change Out Fabrics
When looking for cheap decorating tips, people often forget about one of the most prominent aspects of their rooms – fabrics. Fabrics – like pillows, area rugs, and curtains – can add color and texture to a space. Consider changing your couch or chair cushions or adding an area rug. You can also change your curtains, which will completely change the look of your room. You can make simple curtains for dirt cheap by simply adding wide ribbon tabs to the tops of old clean sheets.
3. Bring the Outside In
Another cheap decorating idea is to introduce a little bit of nature to your space. One of the easiest and cheapest ways to do this is arrange some cut wildflowers in a pretty vase. you can also bring in a potted plant, which can make your space feel cozier and more inviting.
4. Rearrange Your Furniture
You can't really find a cheap decorating idea cheaper than rearranging your furniture – it's free! My hubby hates it, but I frequently get the furniture rearranging bug. I usually rearrange my furniture every six months to a year. It just makes everything feel so fresh and new.If you're sick of your rooms looking the way they do, try rearranging the furniture. Move just a chair or end table, or completely rearrange it all!
5. Rearrange Your Rooms
I do this with ou family room and living room at least a couple times each year. The furniture and other items from the living room get moved into the family room and vice versa. If you have a smaller home, you might still be able to do this. For instance, you could switch your dining room with your living room, or simply swap bedrooms between family members.
6. Downsize
After years of living in an apartment or house, you've most likely aquired a great deal of "stuff". Take a good look around your home – do you really need all of that "stuff"? Too much stuff can make your home feel cramped, not cozy. Consider getting rid of some of your items, like furniture that's more in the way than useful.
7. Add Storage
I don't think any home can have enough storage, but many are sorely lacking in this department. Just as having too much "stuff" can make your home feel cramped, insufficient storage can make it feel cramped as well. One of my favorite cheap decorating ideas is to add as much storage as possible. Baskets are great, since you can use them for just about anything and you can find them for next to nothing at thrift stores. You can also sometimes find storage ottomans and old dressers that you can use to add style and storage to your home.
8. Hang Wall Art
If you're looking for cheap decorating ideas, try adding some wall art. Hanging visually appealing items to your wall can add a little personality to an otherwise bland room. Family pictures are great, but try hanging black and white photos in a tight group for a bold and classic statement. You can also hang other items like plates or make your own DIY wall art.
9. Change the Hardware
Kitchens and bathrooms will usually benefit the most from this cheap decorating idea. Changing or upgrading your hardware, like hinges and cupboard handles, can result in a surprisingly dramatic change in a room. These pieces can be expensive, so you might want to consider picking them up over a longer period of time, such as a couple hinges and handles each week.
10. Think Outside the Box
A dresser doesn't have to be used only in a bedroom, and an old wooden ladder makes a great pan rack. If you need cheap decorating ideas, you'll need to start thinking outside the box. Instead of looking at a piece of furniture as it is, look at it for what it can be. You may be able to turn that old entertainment center into a complete home office, for instance. Or, that ratty looking side table at the thrift store might look great with a few coats of paint and some new hardware.
What are some of your favorite cheap decorating tips and ideas?