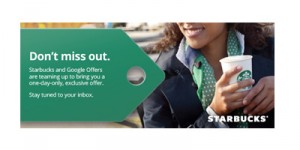 Word has gotten out that Google Offers will be offering a $10 Starbucks GC for just $5. I have no doubt that this will sell out quickly unless they have a HUGE stock of them available for sale, which I seriously doubt. But I could always be wrong of course!
If you want to snag this deal, sign up for Google Offers now and bookmark the page so you can check first thing in the morning tomorrow. Good luck grabbing one of these.
Thanks Springs Bargains!