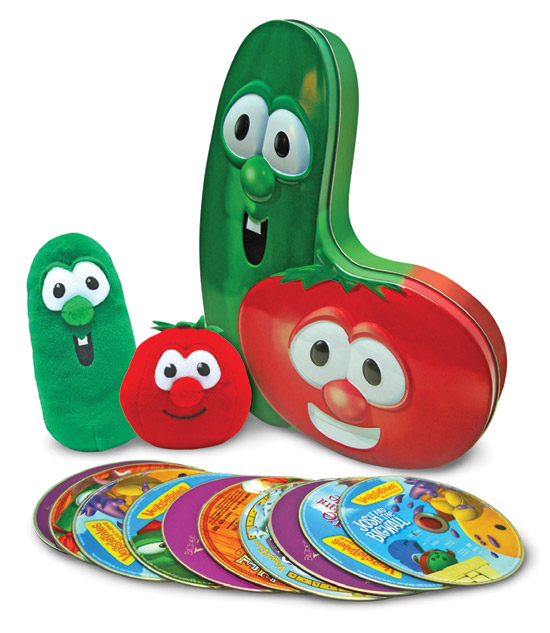 Right now you can pick up the Veggie Tales Deluxe DVD set for $29.99 at Family Christian Stores.  To get this deal you need to:
Visit Family Christian Stores
Search for the  Veggie Tales Deluxe DVD collection with Tin and Plush toys.
Add it to cart.
At checkout use the code 123023301 to get an additional $10 off and get it for $29.99.  Shipping is 99 cents.
According to the website, this collection Includes:
10 all-time favorite DVDs with fun lesson
Plus – Bob the Tomato and Larry the Cucumber PLUSH TOYS
Packaged in a beautiful custom molded Bob & Larry shaped TIN (11.5" tall x 8.8"wide x 1.25" thick)
Portable DVD Case
Full-length DVDs Included:
1. Duke and the Great Pie War (Loving Your Neighbor) – Runtime 45 minutes
2. Dave and the Giant Pickle (Self Esteem) – Runtime 30 minutes
3. Josh and the Big Wall (Obedience) – Runtime 30 minutes
4. Esther: The Girl Who Became Queen (Courage) – Runtime 30 minutes
5. Madame Blueberry (Thankfulness) – Runtime 45 minutes
6. The Ballad of Little Joe (Facing Hardship) – Runtime 75 minutes
7. Lyle the Kindly Viking (Sharing) – Runtime 35 minutes
8. King George and the Ducky (Selfishness) – Runtime 30 minutes
9. Big River Rescue (Helping Others) Runtime 45 minutes
10. Sheerluck Holmes (Friendship) – Runtime 50 minutes
What a super deal!  I have paid up to $14 for a Veggie Tales DVD on Amazon.  While it is not money I regret spending because I love Veggie Tales, I wished I had found this deal earlier.
Thanks My Frugal Adventures!