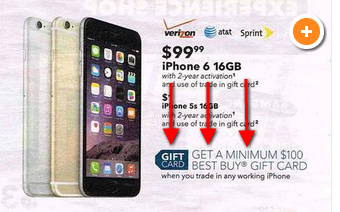 Do you have a Best Buy around and an old iPhone? Right now you can get a free $100 Best Buy gift card when you trade in ANY working iPhone! Best Buy is also offering the iPhone 6 for $99 with a new 2-year agreement, so you could potentially snag the new iPhone 6 for FREE!
Keep in mind that you do NOT have to purchase the iPhone 6 (or anything else) in order to get your gift card. You can hang onto it or use it for another purchase on just about anything in the store.
Here's what Best Buy's senior social media specialist had to say about this on THIS PAGE:
You are not required to purchase the iPhone 6 in order to take advantage of this trade-in offer, and the gift cards can be used towards the purchase of anything you want. In addition the charger and box are not required, but the iPhone does have to power on.
The screen or case on the iPhone you're trading in can not be cracked either.
If you have any trouble trading in your iPhone, this company memo should help clear up any confusion. There's also a special support thread for the iPhone trade-in offer on the Best Buy forums.