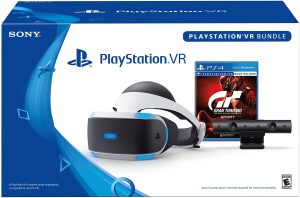 They're HERE! Playstation Virtual Reality Bundles are now $100 off on Amazon! Here are a few deals you can snag…
PlayStation VR – Gran Turismo Sport Bundle—$299.00!
Bundle includes: PSVR Headset, PS4 camera, and Gran Turismo Sport.

Put yourself in the driver's seat with Gran Turismo Sport on PlayStation VR and challenge yourself in the ultimate racing experience.

Experience racing in new and extraordinary ways. Turn your head and aim towards the apex as you enter the corner.

Confidently throttle down as you look ahead at the exit to a blind corner. The future of motorsport is with PlayStation VR.
PlayStation VR – Headset + Camera Bundle—$299.99!
Ever Expanding Library of Games – PlayStation is committed to continuously delivering new worlds of unexpected gaming experiences through PlayStationVR.

Plug and Play – Getting into PlayStationVR couldn't be easier. Just plug the PSVR headset and your PlayStation Camera into any PlayStation4 system and you're ready to go.

Lightweight Headset Design – The PlayStationVR headset will make you forget that you are wearing one, keeping you free from distraction as you explore new gaming worlds.
PlayStation VR – Skyrim Bundle—$349.00!
Bundle Includes PlayStation VR headset, PlayStation Camera, two PlayStation Move controllers, and Skyrim VR game.

A true, full-length open-world game for PS VR, The Elder Scrolls V: Skyrim VR reimagines the complete epic fantasy masterpiece with an unparalleled sense of scale, depth, and immersion.

Simply plug your PlayStation VR and PlayStation Camera into your PS4 system and transport yourself to new gaming worlds like never before.