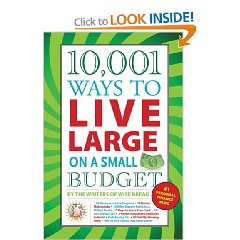 Saving money by using coupons is only one way to stretch the income you already have and improve your personal finances.  One of my favorite blogs to turn to for additional money saving ideas and topics is Wisebread.
The writers at Wisebread have come together to create a go-to guide to saving money: 10,001 ways to Live Large on a Small budget.  Here they have shared their best advice such as:
• 10 Frugal Ways to Care for Your Allergies: Tips include alternating decongestants, cutting 12-hour pills in half, and buying decongestants at bulk stores, to name a few.
• 13 Free Ways to Wrap Your Gifts with Style: Utilize everyday materials found around the house to create beautifully packaged presents.
• 6 Simple Tips for Buying Great, Affordable Wine: Award-winning wine consultant Brad Haskel of London Lennies restaurant shares inside-industry knowledge.
• 6 Steps to Eliminating Your Debt Painlessly: Snowball debt relief efforts using a high-interest-first debt-reduction plan.
• 11 Penny-Pinching Ways to Pimp Your Garage: Organize your garage into good use.
• 6 Warnings Signs That You Shouldn't Take That Job: Understand telltale characteristics of lousy jobs, and why it may be best to cut and run.
• 3 Easy Steps to Finding Great Airfare Deals: Grasp the motivations behind airline pricing and develop strategies to consistently spot good deals.
I am very excited to be supporting them in spreading the word about their book AND be able to provide two of my readers the chance to win one of these books.
To enter this giveaway all you need to do is leave a comment sharing how saving money has improved your personal finances so far.  I want to hear how your penny pinching is helping improve your life.
This giveaway ends Monday 6/1 at 9 PM CST.  U.S. addresses only please.