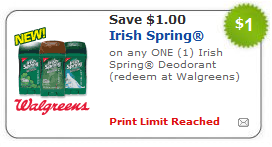 The $1/1 Irish Spring Deodorant coupon available on Coupons.com reset for me! The print limit on this coupon is 1. But I printed this coupon two days ago and was able to print it again just now.  Use zip 90210 if you don't see this coupon under your own zip.
This is a manufacturer coupon with an expiration date of 7/31/11. It also print with the wording "redeemeable at Walgreens." I am hoping there will be a nice register rewards deal to go with it before it expires.
UPDATE:  These will be free after coupon and register rewards at Walgreens the week of 3/13.  Print your coupon now!