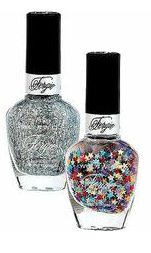 Check your Red Plum oupon inserts from today (2/10) for a coupon for $1/1 Wet N Wild or Fergie Cosmetic product.  Walgreens carries Wet N Wild nail polish for 99 cents.  Use this coupon to grab it free:
Wet N Wild Nail Polish, $0.99
Use $1/1 Wet 'n Wild 02/10/2013 RP Insert (exp 02/23/2013)
FREE after coupon
Other stores carry Wet N Wid lip liners or eye liners for very cheap.  You may be able to get them free with this coupon.  Note that the coupon expires shortly so use it soon!
Thanks, Frugal Finders