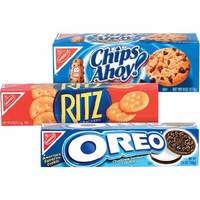 There is a new $1/2 Nabisco crackers and cookies coupon available. This coupon has no size restriction which means you can use it in the smallest boxes to get a good deal. Here are some of the deals to be in the lookout to go with this coupon:
Walgreens will have the Snack bags on sale for 79 cents. Use the coupon to pay only 29 cents per bag.
Walmart carries the on the go cups for $1. Use this coupon to pay only 50 cents each.
Both CVS and Walgreens often put the small boxes on sale for $1.
Personally I am going to holdout and hope the Snack Saks go on sale for $1 at a grocery store near me and use the coupon to buy them just for 50 cents.
Thanks Free Snatcher!