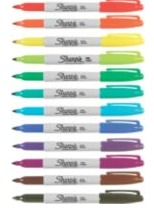 This offer is now expired.
These Sharpie® Fine Point Permanent Markers 12ct have been restocked on Staples. Get them for $3 shipped right now. these sold out quickly at the beginning of the week. So don't hesitate if you need them.  This is also available in Ultra Fine Point Markers.
I checked on these earlier this morning and they were out of stock.  Looks like they decided to add some after all.
Thanks my frugal adventures!