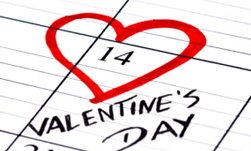 Although heart shaped boxes of chocolates and dozens of roses may be romantic, you don't need to drop tons of money to show your love on the upcoming holiday. There are lots of romantic, fun, and frugal Valentine's Day ideas to celebrate this special day.
Frugal Valentine's Day ideas don't have to be cheesy or corny either. In many ways, I think that frugal Valentine's Day ideas mean the most. People who employ frugal Valentine's Day ideas typically need to get a little creative, since they aren't usually able to drop gobs of money on expensive gifts to woo their Valentine.
The following frugal Valentine's Day ideas are creative, fun, and romantic, and nearly anyone can use them, regardless of their budget.
1. Choose a Gift Together
If neither of you have enough money to do something special for each other, pool your resources and choose a gift together for both of you. It could be something as inexpensive as a DVD, a racy book, a board game, or a bottle of champagne.
2. Write a Letter
How often do you tell your Valentine just how much you really care about them? The answer is, probably not enough. Write a detailed letter about what you love about them and how you look forward to your future together. Even if you aren't a regular William Shakespeare, a handwritten heartfelt letter is about as romantic as you can get.
3. Have a Scavenger Hunt
Add a little fun – or spice! – to your Valentine's day with a scavenger hunt. Instead of a simple trail of hearts or flower petals, you can leave little notes with hints leading to the next hints, with the trail eventually ending with your surprise – whatever that may be…
4. Make your Own Treats
Instead of spending a pretty penny on Valentine's Day treats, like candy and cookies, make your own. You can make heart shaped sugar cookies, heart shaped brownies, chocolate dipped strawberries, or truffles. One of my favorite frugal Valentine's Day ideas is hitting the kitchen and making sweet treats together. You can make it a couple's activity or a family activity.
5. Be a Teenager Again
Go back to your teenage years for frugal Valentine's Day ideas. What did you do when you had no money? Head to a fast food joint and order from the dollar menu. Split a milkshake for desert. Get a cheap bottle of wine and go parking afterward. Go with the flow!
6. Recreate Your First Date
Recreating first dates can sometimes be frugal Valentine's Day ideas. If you went to a movie on your first date, rent the movie and watch it at home. Go to the same restaurant you went to on your first date, but only go for desert or drinks, since this is much less less expensive.
7. Go For a Walk
Bundle up (if you live in a cold climate) and go for a walk. There's just something romantic about walking together with your fingers intertwined. If you live in the country, you can do some stargazing during your walk or stop by a pond. If you live int the city, you can window shop or take a stroll through a local park.
8. Take a Bath
After your walk, you can warm up with a hot bath together. Use a yummy smelling bubble bath and wash each other's hair. In no time at all, things are bound to get steamy.
9. Plan Your Dream Vacation
Even if you can't afford your dream vacation, it can still be fun and romantic to plan it. Get online and research romantic getaways for the two of you. Plan every detail, from where you'll stay to where you'll eat to what sights to see.
10. Go Dancing – At Home
Dim the lights, burn some candles, pour a couple glasses of wine, and turn on some sultry music. You don't need to be smashed into a smokey blues club with a hundred other couples on Valentine's Day to go dancing. Do it right at home, and save some money and enjoy some private dirty dancing.
11. Build a Fort
If you're looking for frugal Valentine's Day ideas with a carefree and fun feel to them, you can't get much closer than a fort. Break out the blankets and cover the dining room table, some chairs, or your couch. Add some holiday string lights and a racy book, and you have your very own blanket fort/love nest!
12. Meet for the First Time
Okay, so you probably won't meet your Valentine for the first time, but it could be fun to pretend. Plan to bump into each other unexpectedly somewhere, like a bookstore or coffee shop, and introduce yourselves like you've never met before. You can be yourself, or you can pretend to be someone else. This is one of those frugal Valentine's Day ideas that you can make as tame or as racy as you want.
13. Play Poker
Yeah, you probably see where this one's heading. Bust out the cards and get ready to lose a piece of clothing for every hand you lose. No fair adding layers and shoes before you play!
14. Organize Your Photos 
On a list of frugal Valentine's Day ideas, organizing something is probably the last thing you thought you would see, isn't it. However, sorting through pictures and mementos can be fun and romantic. While you're going through your photos, choose some that you both like and create a chronological scrapbook of your relationship. You can even create a new Valentine's Day tradition by adding a page or two to your scrapbook each year on February 14th.
What are your ideas for romantic, fun, and frugal Valentine's Day ideas?