Binder clips are handy little office supplies to have around the house. They're versatile and cheap, and definitely handy to have around. They may even be right  there with duct tape.
With all of the back-to-school sales coming up, you should be able to get some nice deals on binder clips too! After checking out some of these binder clip hacks, you might want to stock up on a few packs to have them handy…
1. Cable Organizer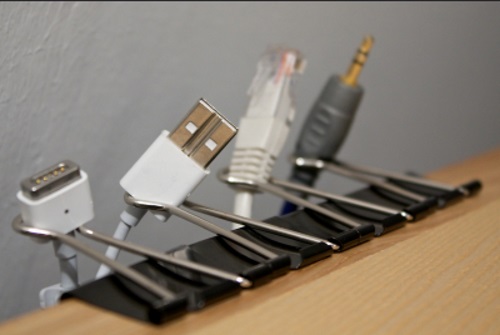 Source
This may be one of the greatest ways to use binder clips ever! Jut clip some binder clips to the edge of your desk and thread the cords for your computer and electronics through the wings. This will keep the cords handy and organized.
2. Keyboard Elevator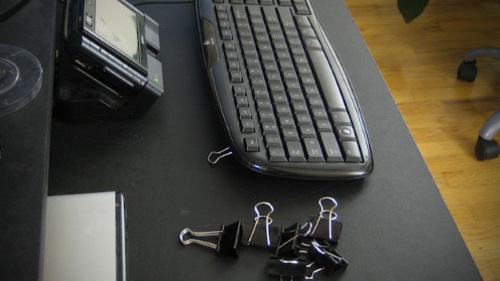 Source
Did one of the legs break off of your computer keyboard? Just use binder clips as replacements! You can also clip a couple binder clips to the legs of a keyboard to raise it to a more comfortable level.
3. Mobile Device Stand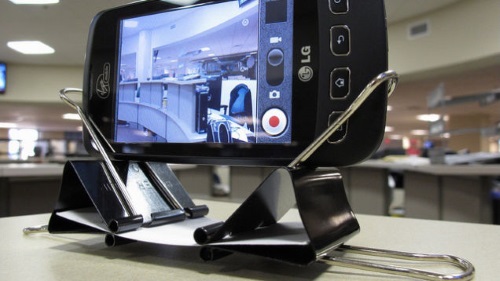 Source
If your mobile device doesn't have a stand of its own, you can fasten one out of binder clips. This particular clip phone stand uses two binder clips and a business card to keep it steady.
4. Yarn Holder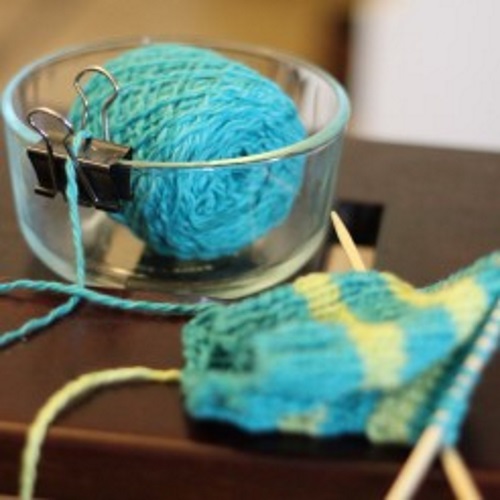 Source
Stop getting your yarn tangled when knitting with a binder clip! Place the ball of yarn in a bowl with a binder clip clipped to the side and thread the yarn through the wings of the clip.
5. Bottle Holder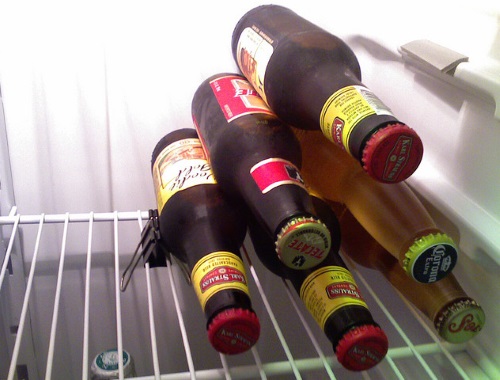 Source
Clip a binder clip to the grates of your refrigerator to keep bottles from rolling around. You can use this binder clip hack for beer or any other beverage in a bottle.
6. Freezer Organizer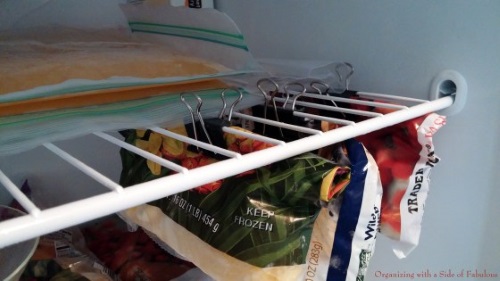 Source
Of all of the binder clip hacks out there, I think this one is my favorite! Clip food items to the rungs of your freezer with binder clips. This prevents them from piling up and getting lost by putting them front and center.
7. Sponge Germ Buster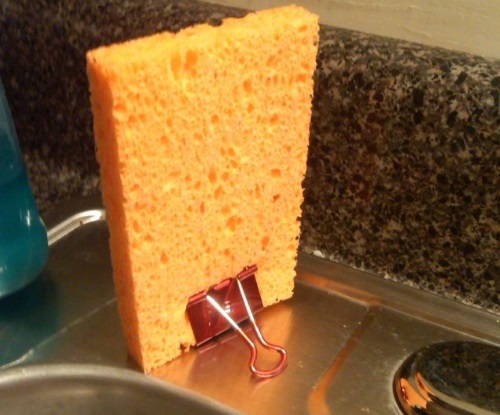 Source
Sponges can get germy and yucky when they're left wet. Start keeping a binder clip next to your sink and use it to hold your sponge. This will allow it to dry between uses, preventing the growth of germs.
8. Toothpaste Squeezer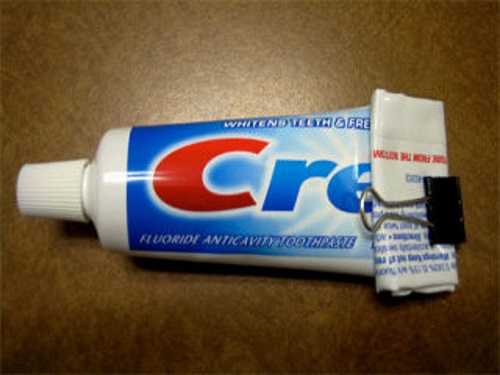 Source
Get every last bit of toothpaste out with a binder clip. Roll the toothpaste tube up from the bottom and clip the binder clip to it.
9. Drawing Tablet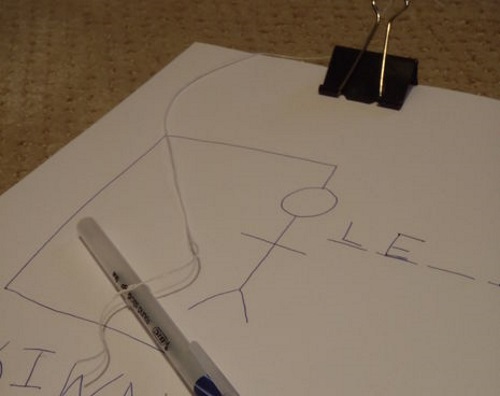 Source
Make an impromptu drawing tablet with a binder clip, pen, string, and some paper. This would be a great way to keep the kids entertained during a long car trip.
10. Recipe Card Holder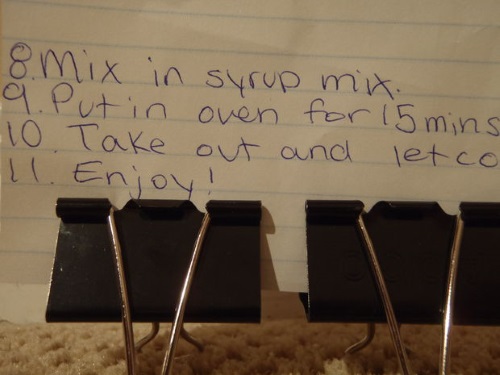 Source
Keep your recipe cards clean and in good shape by holding them in a couple of binder clips while you cook.
11. Cookbook Holder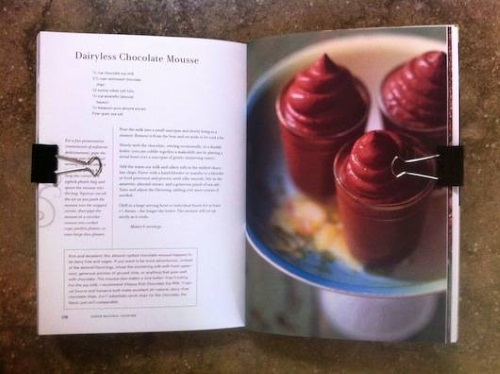 Source
Or, keep your cookbook open to the right page while you cook with a couple of binder clips.
12. Bookmark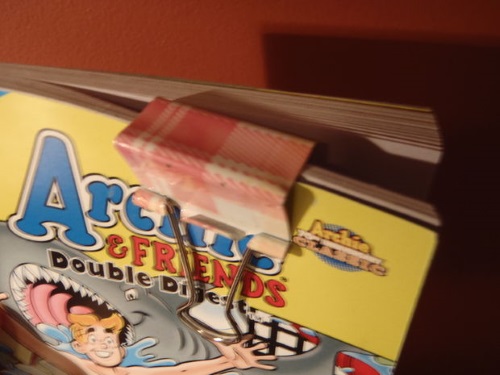 Source
Come to think of it, you can actually keep your place in any book with a binder clip.
13. Scarf Holder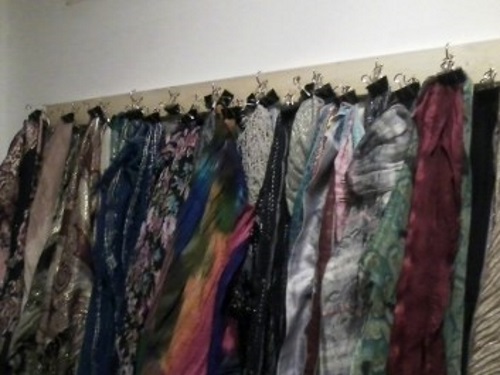 Source
Are all of those cute scarves taking over your closet? Keep them out of the way and organized by clipping them in binder clips and hanging them on the wall.
14. Hang Artwork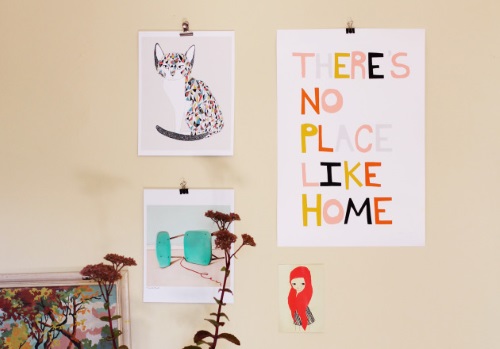 Source
Binder clips are a great way to hang the kids' artwork at home. After you clip the masterpiece into a binder clip, you can hang it with a tack on the wall. When a new masterpiece comes along, you can easily change it.
15. Label Shelves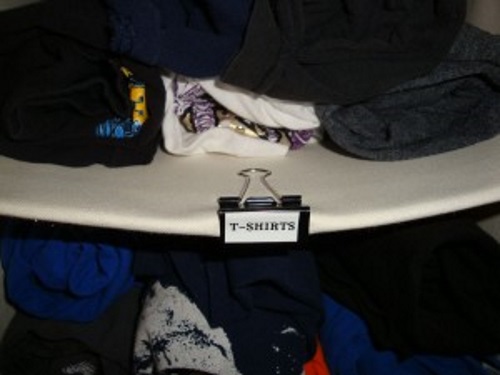 Source
Label a binder clip and clip it on the edge of a shelf. Easy to do and easy to change labels if you ever need to!
What are your favorite binder clip hacks?