I made a quick impromptu trip to CVS tonight with the kids today and was a little shocked at my own total…a whopping 18¢. Here's everything I got…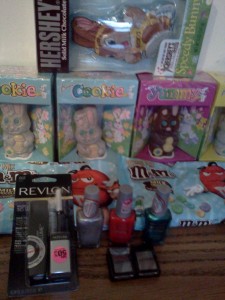 Not too shabby, eh?
I attribute the success of this trip mostly to pure dumb luck. I really thought I was in trouble when the kids and Hubby spied the clearance Easter candy.
However, they were in luck – the CVS coupon spitter-outer spit me out a coupon for M&M's. As I was browsing the Revlon products, there was a sweet little lady going around and sticking perty pink 50% off stickers to several of the products. So, if you're heading to your local CVS this week, these Revlon coupons might just come in handy…
Not to mention, I also has a 10% off beauty purchase coupon for joining the Extracare Beauty Club (Finally!) and a few printables for $2/1 Revlon Eye Product.
Here's a quick breakdown of my trip…
Bought (1) Hershey Milk Chocolate Bunny – $1.37 (75% off $5.49)
Bought (4) Chocolate bunnies – $.32 each (75% off $1.29)
Bought (3) Wet n Wild nail polishes – $.99 each (B2G1 Free)
Bought (2) Easter M&M's, 12.6oz – $1.05 each (75% off $4.19)
Bought (1) Revlon Photoready 3D mascara – $4.75 (50% off  $9.49)
Bought (2) Revlon ShadowLinks – $3.29 each
Subtotal: $18.06
– Used (1) $2/2 M&M's 8-14 oz from CVS coupon spitter-outer
– Used (1) $2/$10 Cosmetics purchase CVS coupon loaded to card
– Used (3) $2/1 Revlon Eye Product
– Used (1) $4 ECB
– Used (1) $3 ECB
– Used 10% off Beauty Shopping Pass for finally joining the CVS Beauty Club (Deducted Remaining $1.06)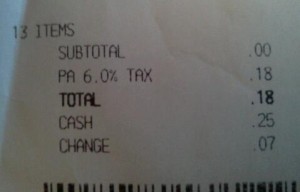 The only bummer part about this trip was that i didn't get the $3 ECB for spending $10 on Revlon products. I didn't realize this until after I left the store. So, the clearance Revlon products may not count toward this offer. It may be a YMMV situation, though.