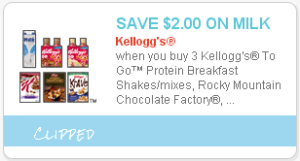 Hurry and head over to Coupons.com to print a great milk coupon! This coupon, which can be found under California zip code 99218, will save $2 on milk when you buy any three Kellogg's Krave Smores, Rocky Mountain Chocolate Factory, Special K Chocolate Almond cereals, and/or To-Go Protein breakfast shakes.
To change your zip code, you'll have to log in or create an account. From there, just go to your profile and edit your location.
This coupon looks like it was issued by Kellogg's and has no state restrictions on it. So, even those of us in states with regulated milk prices should be able to use it!