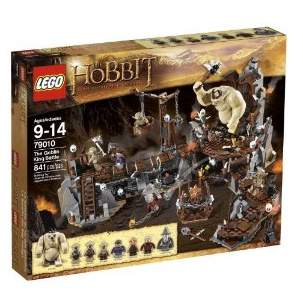 Amazon has select The Hobbit Lego  play sets on discount for 20% off.  These are collectible items for Hobbit Fans.  Check out what's available:
LEGO The Hobbit Riddles for The Ring $9.49.  Includes 2 minifigures: Gollum and Bilbo Baggins in journey outfit with Sting
LEGO The Hobbit Attack of the Wargs $39.99 reg $49.99.  Includes 5 minifigures: Thorin Oakenshield, Bifur the Dwarf, Yazneg and 2 Hunter Orcs, all with assorted weapons.  Features 2 Wargs, a tree, 2 campfires and 2 rock ledges
LEGO The Hobbit Escape from Mirkwood Spiders $23.99 reg $29.99.  Includes 4 minifigures: Fili the Dwarf, Kili the Dwarf, Legolas Greenleaf and Tauriel, all with assorted weapons.  Features 2 trees, 2 large spiders, 2 small black spider, 1 small white glow-in-the-dark spider, and 2 cocoons
LEGO The Hobbit The Goblin King Battle $79.99 reg $99.99.  Includes 7 minifigures: Dori the Dwarf, Nori the Dwarf, Ori the Dwarf, Gandalf the Grey, The Goblin King, Goblin Scribe and 2 Goblin Soldiers, all with assorted weapons.  Accessories include map, skulls, bone elements, torches with flame elements, golden crystals and The Goblin King's crown and bone scepter.
These ship free with Amazon Prime or with Amazon Super Saver shipping with a $25 order.