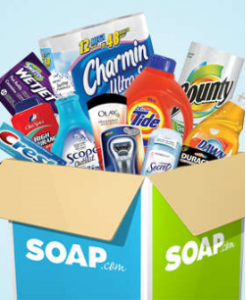 I just wanted to let you know that this deal is available again. It sold out when it was available on Monday, so if you missed it…Today on Living Social you can get a $20 Voucher to shop at Soap.com for just $10. This voucher is good on the purchase of the the following brands: Accu-Clear, Align, Always, Ariel, Aussie, Bold, Bounce, Bounty, Braun, Camay, Cascade, Charmin, Cheer, Clairol, Clearblue Easy, CoverGirl, CoverGirl & Olay, Crest, Dawn, Downy, Duracell, Era, Fact Plus, Febreze, Fixodent, Gain, Gillette, Gleem, Head & Shoulders, Herbal Essences, Ivory, Ivory Snow, Joy, Metamucil, Mr. Clean, Olay, Old Spice, Oral B, Pantene, Pepto-Bismol, Prilosec, Puffs, Pur, SafeGuard, Scope, Secret, Swash, Swiffer, Tampax, Tide, Tide To Go, Vicks. Shipping is not included but Free overnight delivery on your order of $25 or more.
Here is how to get this deal:
After you create an account or login, click here to find this deal.
Click BUY to get this deal.
Within about 24 hrs your promotional voucher will be active.
If you are a Soap.com customer you an buy this voucher and use it. Limit of one per household though.
Thanks, Coupons on Caffeine!