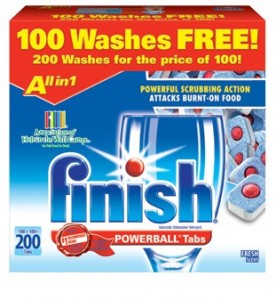 Costco Currently offers 200 Finish Powerball Dish Washer Tabs for $17.99.  This offer includes free shipping.  The thing with this deal is that you have to buy two of these at least.  Now that makes for 400 tabs and that should leave you set for more than a year.  However, if you think that is too many for you, you could also split this offer with a friend and family member.  If you are not a Costco Member you pay a surcharge of $1.80 TOTAL on your order.
That's a great price per tab of around 8-9 cents.  Other online deals that I have shared with you before made them as low as 13 cents.  I think this is a great price to pay for someone who does not have a warehouse club membership and wants to stock up for cheap.
Offer valid through 3/18 or while supplies last.