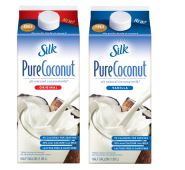 This high value $2/1 Silk Milk coupon is available again.   To get this coupon, visit this webpage. Then click on "Get a Coupon."  You need to take a survey to get the $2/1 coupon.  Otherwsie you can only print a $0.75/1 coupon.  This coupon is good on any of the Silk Milks.
UPDATE: It looks like you have to register for a new account to get the survey to show up.
Thanks, Money Saving Maine-iac!