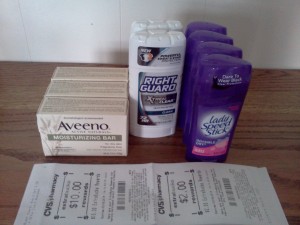 This week at CVS, you can buy three Aveeno products and get $10 ECB. If you're headed to CVS, make sure you look for the Aveeno moisturizing bars pictured above. These were priced at $3.89 at my local store, which is a pretty awesome deal after ECB. You might also get a $1/$5  Body Wash, Bar Soap or Liquid Soap coupon from the CVS coupon machine to make this an even better deal!
Buy (3) Aveeno moisturizing bars @ $3.89 each ($11.67) 
– Use $1/$5  Body Wash, Bar Soap or Liquid Soap (CVS Coupon)
– Pay $10.67 out of pocket (Or less if you have ECB to use.)
– Get $10 ECB
Final Cost: $.67 wyb 3 ($.22 each!)
So, what's with all the deodorant? I'm pretty brand loyal when it comes to my Speed Stick and my daughter uses it as well, so I like to stock up when it goes on sale. And, of course, the Right Guard was free, so I grabbed that as well.  Here's the deal I used for all of those…
Bought (4) Lady Speed Stick Deodorant @ $1.99 each ($7.96)
Bought (2) Right Guard Xtreme Clear Deodorant @ 2/$6 (Get $2 ECB wyb 2) 
– Used (2) $1/2 Speed Stick or Lady Speed Stick (6/15/14 SS)
– Used (2) $2/1 Right Guard® Xtreme Clear® or Right Guard Clinical Clear® Product
– Stacked with $2/$10 Deodorant purchase (CVS Coupon)
– Paid $5.96 out of pocket (Actually less, since I had ECB)
– Got $2 ECB
Final Cost: $3.96 for all 6 deodorants ($.66 each!)
Overall, the whole trip cost me a little over $2 out of pocket, after I used my ECBs that were burning a hole in my pocket. I walked away with three bars of great soap, six sticks of deodorant, and $12 additional ECBs.
I love CVS!