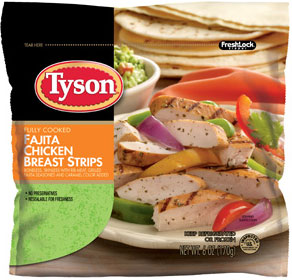 I was just cleaning my Couponizer and have these five coupons I won't get to use.  So, I am giving them away!  the coupons are:
(2) Free any 6oz or 10oz bag of Tyson regfrigerated chicken ir steak strips (up to $5.99 value)
(3)  free any 7.5oz box or any 20-22oz bag of Tyson Frozen Chicken or beef strips (up to ($9.99 value)
All five coupons expire on 12/31/09.  So, this will be a 24 hrs giveaway only.
This is what you have to do to enter this giveaway:
1)  Leave me a comment in this post.
If you are reading this entry via email updates or via RSS reader please CLICK HERE to visit my blog to enter. Emailing me is not a valid entry for this giveaway. This giveaway is open to residents of the United States only. Please enter only if you are 18 years or older.  This giveaway ends on 12/10 at 9PM CST.  At that time I will close the giveaway and select ONE winner randomly.