Vistaprint is well known for giving away free business cards. Free is great, but these cards may not be the best choice for actual business cards. You have limited options when it comes to your design and font, for instance, and the back of the business card contains a shameless plug for Vistaprint.com.
Not the best idea for professional looking business cards, but for "Mommy cards"? You bet!
The free business card offer from Vistaprint is an excellent option for us mamas out there that want to have our very own Mommy cards to hand out to other mommies. This makes things so much easier than fumbling around for a pen and paper when setting up play dates and organizing meetings with other parents. No more fumbling around for a pen and paper, just hand the a Mommy card. Here's an idea of how your Mommy card could look: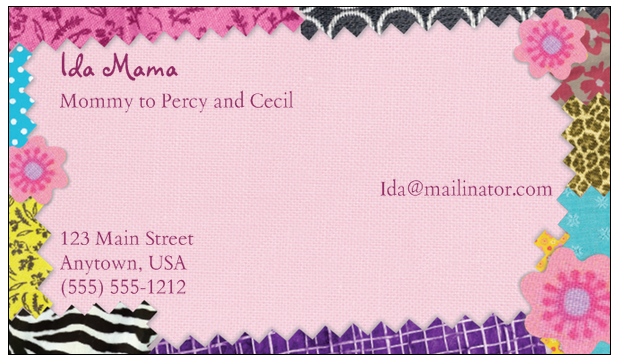 You get the idea…
Shipping for your order starts at around $7.00, depending on which option you choose. If you don't want the Vistaprint.com message on the back, you choose a blank back for only $1.99 before you checkout. Or, you could order 250 Premium business cards for $10 (Shipping included
) and have even more design options and no advertising on the back.