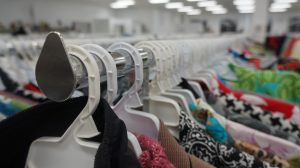 Thrift shopping is more than just shopping. It can truly be an experience. More and more people are discovering this too. Finding awesome pre-owned and pre-loved clothing and household treasures can be a rush! Plus, saving money is always a good time in my book. 
I can go on and on and on about the great deals that I have found over the years (there are many). If you are ready for a fun second hand store trip, here are 3 great thrift shopping tips for your shopping day so that you can love thrift shopping as much as I do!
3 Great Thrift Shopping Tips for Your Shopping Day
Here are some of my favorite tips for thrift store shopping. 
Make a List
I have gotten some amazing deals while thrift shopping, but I have also wasted a ton of time while thrift shopping in the past. In order to avoid doing this now, I always create a list of things that I want to look for before I head out shopping. I make a point to only shop for these things while I am out. This saves money too, because trust me, there are many things to buy, even if you don't necessarily need them. 
Dress for It
Depending on the thrift store you are shopping at, you may be getting down and dirty when looking through shelves and bins so don't wear your fanciest clothes and make sure to dress comfortably. Also, thrift shops have minimal dressing room space. If you plan on buying clothes, wear something that is easy to change out of quickly. 
Set a Cash Budget
Set a budget and take that amount of cash with you when you go. Leave your cards at home. This will help to prevent you from spending too much money while you are out. Trust me, with the deals that are out there, it's easy to go over budget.