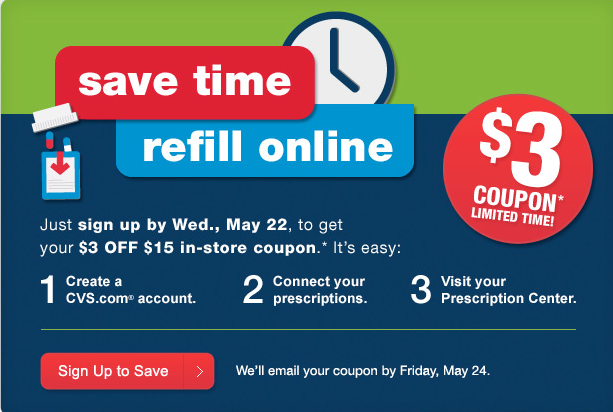 You may have received this same email from CVS offering a $3 off $15 total purchase CVS store coupon.  You'll need to create a NEW CVS.com account, connect your prescriptions.  Just sign up by Wednesday May 22nd to get your coupon.  You'll be emailed the coupon by Friday May 24th.
Access your online pharmacy in 3 easy steps:
1. Create a CVS.com® account.
2. Connect your prescriptions.
3. Visit your Prescription Center.
*Offer ends 5/22/13 at 11:59 PM ET. Must be eligible to create a new online pharmacy account to receive the offer. Coupon will be emailed on 5/24/13 and expires on 6/2/13. Maximum $3 value on minimum $15 purchase. Valid in store one time only.