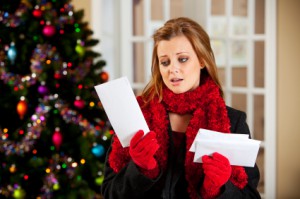 The holidays are an excellent time of the year. You're hanging out with your friends and family, eating all kinds of food, it's cold outside, but you get to stay bundled up inside with the ones you love and you just have a warm feeling in your heart. Unfortunately, that time is going to come to an end and all of a sudden you realize you're in some serious debt. On average, Americans spend anywhere from $700 – $1,000 every single year for gifts around the holiday season. It's always better to pay for gifts with cash, but a lot of shoppers had to use their credit cards. Most people that used their credit card won't have their holiday debt paid off until the middle of the year.
Now, if you don't want to be stuck under that amount of debt for longer than you have to be, there are certain things you can do to get that debt cleared up. Below, I'm going to go over some tips that may help you save as much money as possible, so you can pay off those credit card bills as quick as you can. The sooner you get the paid off the less interest you'll have to pay.
#1. Change Your Insurance Provider
A lot of people will stick with their insurance provider through thick and thin. Usually, this is something you never think about changing and some insurance companies even offer you savings when you're a loyal customer. This is great and all, but you may be able to find another insurance provider that will be able to save you some money. There's a lot of websites out there you can go to that will compare different insurance companies and their rates for you. It never hurts to check to see if you can save money on insurance, especially now that it's so easy to do online.
#2. Use Your Tax Refund
A lot of people out there have their tax money spent before they even receive the check. In other words, people have plans for what they intend to do with the money as soon as the check arrives. Most people go out and buy electronics, clothes, household items, etc… I know how tempting a shopping spree sounds, but the responsible thing to do is to pay off your holiday debt with your tax refund. It will save you money in the long haul.
#3. Pack Lunches
I personally like to pack lunches in advance and freeze them in the freezer for my kids to take to school with them and for my husband to take to work with him. This both saves money for the whole family and time for me in the mornings. That way, I'm not making a bunch of sandwiches all at once. Instead, I can just grab one from the freezer. This will keep your children from having to pay for a school lunch and your hubby won't have to go out for lunch.