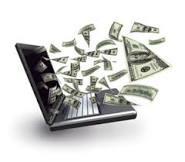 Freelance writing is a great way to make a little extra money online in your spare time. Webmasters, bloggers, and businesses are constantly in need of written content, like blog posts, articles, and product descriptions. And, they're willing to pay for it!
If you have a knack for the written word, you might want to consider writing online. You can make money online for a little extra cash, but it's not uncommon to actually make a living or even a career out of writing online.
Getting started can be a bit difficult, though, especially if you have no previous professional experience writing online. There are a few websites out there to make money writing online, regardless of your experience.
Textbroker
Textbroker is a commonly known website amongst online freelance writers. In fact, it's where many online writers have gotten their start.
To sign up, head over to Textbroker.com and create a free writer's account. You'll then need to submit a writing sample, which will be rated. Once your sample is rated, you can start claiming and writing articles from a large pool of projects.
Keep in mind that the higher your sample is rated, the more money you'll get paid at first. Each of the articles you write will also be rated, so the better your writing, the more you'll get paid.
Writer's Domain
Writers Domain is another great place to make money writing online! When this website first started, writers made just $3 per short article. Now, though, writers can make $20 for a standard 400 word article and $40 for a premium article.
Head over to WritersDomain.net to start the application process. You'll need to submit a 400 word writing sample and pass a grammar test to be considered. Once you're accepted, you can start writing! You'll have to write several highly rated standard articles before you can write the higher paying premium articles.
If Writer's Domain isn't hiring but you meet all of the requirements, you may be put on a waitlist. That can be pretty disappointing, but it's actually a good thing! It means that they like your work, and you could get contacted in the future if they need writers.
iWriter
Unfortunately, iWriter is one of the lower paying websites to make money writing online, but it shouldn't be discounted completely. As soon as you register, you can start writing articles right away.
At first, you'll make around of $1.62 for a 300 word article, $2.43 for a 500 word article and $4.05 for 700 word article. Elite writers, however, can make much more per article.
Although iWriter may not be the best choice for experienced freelance writers, but it can be a great choice for beginners looking to make money online. Once you get the hang of writing online, you can use the experience you gained at iWriter to move on to bigger and better things!
Tips to Make Money Writing Online
PayPal is the standard way that many writing websites and clients pay. Before you make the decision to make money writing online, set up an account at PayPal.
Make sure that your grammar and spelling are up to par. Like any other job, quality matters. Take your time and proofread your work before turning it in.
Take the time to do your research. Writing for the web is different than writing for other mediums. You don't always get the chance to write about what you want, and you have to write for an Internet audience as well as for the search engines.
Once you start to make money writing online, treat it as a business. Keep track of your earnings and report the income on your tax returns at the end of the year.
Don't be afraid to reach out for support. There are lots of great online communities out there for online freelance writers. My favorite is the WAHM Freelance writing community.
More Frugal Living Resources: