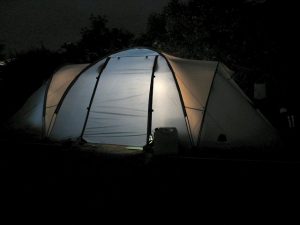 Are you planning on taking your family camping this Summer?  Camping is one of our favorite things to do and we are so beyond ready to head out to the great outdoors now that the weather is finally getting warmer.  
The one thing I hate about camping though is how expensive it can be if you don't plan ahead.  Seriously I have spent hundreds of dollars before on an impromptu camping trip and I never want to do that again.  To combat this expense, I now have several things I do to prepare in advance and ever since I started, it has significantly cut down on my camping expenses.
If you want to be prepared and save money, here are 4 cheap camping hacks you can use this Summer:
Create your own instant coffee.  If you are a coffee drinker, but you don't like the taste of your average instant coffee, just create your own!  Put a single small scoop of your coffee grounds into a coffee filter and tie together with some dental floss.  In the mornings, heat up some water over the campfire and toss in your little instant coffee bag.  It's yummy and costs much less than the Starbucks via type instant coffee packs.
Store your camping gear together.  I bought two large sized Rubbermaid type totes and I use them exclusively to store sleeping bags, flashlights, tarps, etc.  They stay in these totes all year long and when it's time to go camping, all we have to do is toss our totes into the car and go.  These totes are really cheap at Walmart (under $5 each). We use a big tent, so it has to be stored separately, but if you have a smaller tent, those can go in as well.
Pack food beforehand.  If we are planning a camping trip, I usually cook up some rice and beans in the crockpot and create little burritos to take with us.  I store them wrapped in wax paper and storage bags in cooler and when the kids get hungry, all they have to do is grab a burrito from the cooler!  I also prepare PB&Js in advance too.  Camping makes kids hungry!
Buy camping pots and pans at Goodwill.  I always buy our camping cookware at Goodwill.  I only buy stainless steel or cast iron, so I don't have to worry about flaking teflon, etc, but it has served us well!  For just a couple of bucks, I always know where they are (in the totes of course) and I am not ruining my good cookware over a fire.