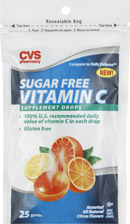 WOW! Hurry over to CVS and grab four completely FREE items! You don't have to pay shipping or even break out a credit card!
First, add TWO CVS Sugar Free Vitamin C Supplement Drops to your cart and complete your transaction until you get your order confirmation. These are great, and I LOVE them!
After you complete your first order, add TWO CVS Nighttime Maximum Strength Sleep Aid Softgels to your cart and complete this transaction as well. OUT OF STOCK, but you can do two orders of the drops!
For each order, your cart screenshot should look something like this: