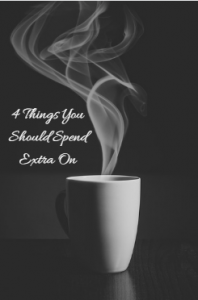 Okay, so I know it seems like we preach to save save save.  We do and for good reason.  That being said, sometimes it is well worth it to pay extra.
Here are 4 things that you should spend extra on:
Shoes – I know that not everyone agrees with me here, but I hate cheap shoes.  Seriously.  I hate them.  They are uncomfortable and they simply don't last long.  I have been desperate a time or two and bought cheap shoes for my son and they literally last maybe 4 weeks, whereas if I buy him Nike or Adidas shoes, we will get 5-6 months out of them.  (and no, 5-6 months isn't long enough, but he is a 9 year old boy who is really hard on shoes)  Still though, I always look for sales and clearance.  You would be surprised at the deals I have found on these shoes.  I just bought my daughter a pair of LeBron Soldier Basketball shoes brand new for $19.99.  
Jeans – About three years ago I got my very first pair of designer jeans.  They were amazingly soft and they looked so much cuter than any of the budget brands I had worn in the past.  Again, I hit up the clearance sales and even high end thrift stores when shopping for jeans, but I have never looked back and I have never bought cheap jeans again.  No regrets.
Jewelry – Okay, truth be told I am not a big jewelry kind of person.  I don't want a ring that costs tens of thousands of dollars, but cheap, fake jewelry just doesn't cut it.  It's going to turn your finger green, break easily or just look dull within a couple of weeks.  If you are on a budget when you are shopping for jewelry, don't be afraid to shop used.  Check Craigslist and pawnshops.  Here's my story: Several years ago I was robbed and my wedding ring (among other things) was stolen, I didn't have the money to go out and replace it at cost so my husband and I looked around and found a gorgeous wedding set on Craigslist for $200.  The lady was no longer engaged and needed the money.  She met us at the jewelry store so we could have it examined and appraised.  Not only was it real, but it came with the receipt for purchase ($1600) and all of the lifetime warranty paperwork with it.
Dish and laundry soap – Never ever ever do I buy cheap dish or laundry soap as it really is watered down and never lasts as long.  That doesn't mean you need to spend a lot though, be sure to clip coupons for this expense!