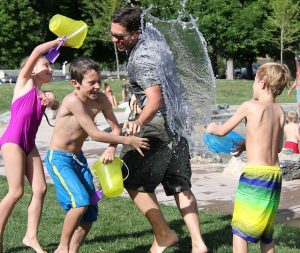 Are you afraid that you're not going to have any fun things to do with your kids this summer because you are on a meager budget? Don't worry! There are plenty of things that you can do this Summer that are tons of fun and require little to no money
Go to the park. Take your kids and head to your nearest city park. Pack a picnic and plan to spend a couple hours there. Kids love this time with their parents and they love playing.  Whether you take a Frisbee and play a little bit of catch or you play on the playground equipment there are plenty of things that you can do. Plus these trips tend to wear the kids out, which makes for good nap time afterwards.

Head to the river. If it's hot out why not head down to the river or lake nearest you and let the kids splash around? It'll help them cool off and summertime memories in the water are always fun memories for the kids. Pack a picnic and stay the day or maybe even bring a little barbecue.

Bring water play home. Do you have a sprinkler? If not you can head to a yard sale or thrift shop and probably pick one up for a buck or two. Or even big box stores sell them for less than $10. Can stay cool and have hours of fun playing in the sprinkler at home.

Take them to the movies. The Regal Summer Movie Express has recently started in most cities across the country. These are second-run movies that only cost a dollar to get into! They play Tuesdays and Wednesday mornings and they offer two movies each week. Both movies play each day of the week so you can actually take them 2 times a week and see a different movie. I don't know any kids that don't love going to the movies. Plus oftentimes, the movie theater offers discounted snacks during these movies. I usually get a bag of popcorn for my kids to share and there's always a drinking fountain in the hallway so we don't splurge on the high priced drinks.