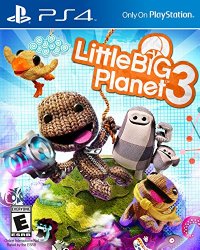 Wow!  Right now at Amazon, you can get Little Big Planet 3 – PlayStation 4
for just $9.99, down from its original price of $59.99!
All the new characters are, like Sackboy, fully customizable and there will be plenty of quirky new costumes to collect in the game so you can express your own individuality.

Speaking of Sackboy – what about him? Well, our favorite knitted knight has been equipped with an all-new climbing ability and loads of brand-new power-ups including the amazing Pumpinator!

In LittleBigPlanet 3, explore a world filled with creativity as you explore all corners of the Imagisphere, meet the inhabitants of the mysterious planet Bunkum and face the nefarious Newton.

The LittleBigPlanet Community has created new levels and games to play every day. Then, if you're feeling inspired, flex your creative muscles with the powerful and intuitive customization tools, to bring your own imagination to life in LittleBigPlanet 3.

LittleBigPlanet 3 is a perfect showcase for PS4, featuring innovative support for the DUALSHOCK4 wireless controller, stunning 1080p graphics and the ability to broadcast creations and gameplay clips with a touch of the SHARE button.
It is currently out of stock, but you can order now at this price!
This item is eligible for free shipping on $49+ orders or on ANY order with Amazon Prime.  Don't have a Prime membership? Get a one month free trial! Click here for details!