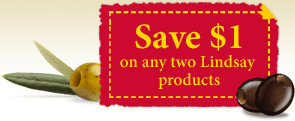 My pantry is running a little low on olives, and since the canned good fairies haven't shown up just yet, looks like I'll need need to head to the store soon. *SIGH*
Fortunately, there's a great deal on Lindsay olives at Walgreens this week when you use the in-ad coupon and a printable coupon from the Lindsay website.
Here's the deal…
Buy (2) cans Lindsay olives
– $.99/can coupon from this week's Walgreens insert page 3 ($1.98)
– Use $1/2 Lindsay products coupon (Must sign up for "Club Lindsay")
Pay $.98 wyb two ($.49 per can!)
If you're heading to Walgreens, don't forget about the $.62 Campbell's soup coupon deal!