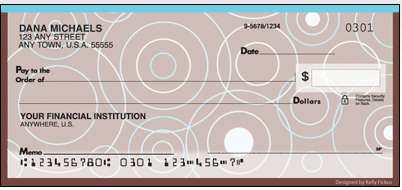 New 4checks.com customers can get two hundred checks for $8.95.  Choose from over 800 designs or even upload your own photos!  Here's how to get 2 boxes of 100 checks each from 4checks.com:
Go here and choose your design adding 2 boxes of single checks to your cart (don't add any extras)
Add your information as it appears on your checks
During step 2 enter promo code DB4381 in the box on the lower left hand corner (price will drop to $5.05 for singles or $6.05 for duplicates)
Be sure to select "NO" TWICE to EZSHIELD on the page the promo code is entered
 Select the free shipping option
Your total should be $8.95 Shipped ($5.05 for single checks + $3.90 handling fee)
BUT, once you are on the final page, you'll need to just wait a few seconds and there will be a pop-up box. Click on "Apply My Savings" and an additional $1.50 will be taken off your total bringing your total down to just $7.45 shipped. 

If for some reason your total is not coming out correctly it's more than likely the EZSHIELD has been added so just go back and remove it.  I have personally ordered these checks in the past and am completely satisfied.  I got my checks delivered in less than a week too!