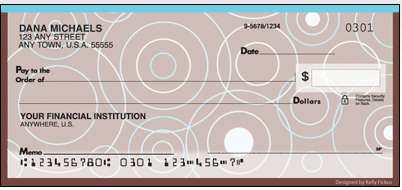 Just a reminder about this good deal on checks if you need them.  This offer is valid for new customersonly.  Choose from over 800 designs or even upload your own photos!  Here's how to get 2 boxes of 100 checks each from 4checks.com:
Go here and choose your design adding 2 boxes of single checks to your cart (don't add any extras)
Add your information as it appears on your checks
During step 2 enter promo code DB4335 in the box on the lower left hand corner (price will drop to $5.05 for singles or $6.05 for duplicates)
Be sure to select "NO" TWICE to EZSHIELD on the page the promo code is entered
 Select the free shipping option
Your total should be $8.95 Shipped ($5.05 for single checks + $3.90 handling fee)
If for some reason your total is not coming out correctly it's more than likely the EZSHIELD has been added so just go back and remove it.  I have personally ordered these checks in the past and am completely satisfied.  I got my checks delivered in less than a week too!