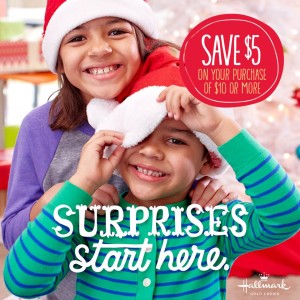 Just in time for the holidays! If you haven't already, print your $5 off $10 coupon for Hallmark Gold Crown Stores.
Not sure what to use your new coupon on? Check out the Hallmark Gold Crown Store digital magazine for some ideas! Here are some of the items on my wishlist for this coupon…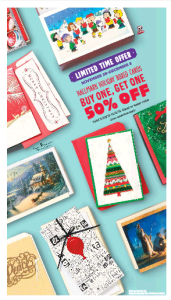 Buy One, Get One 50% Off Hallmark Holiday Cards

I love Hallmark cards! They're often so much more personal and heartfelt than some other greeting cards. I'm a little behind this year, and I still haven't mailed out all of my holiday cards. 🙁 (Okay – I'm a LOT behind!) I just hope they all make it to their destinations in time, or no one will get my personal and heartfelt holiday greetings this year!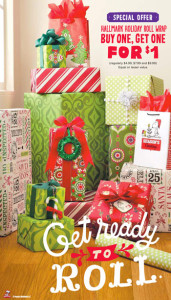 Buy One, Get One for $1 Wrapping Paper Wrapping paper sales are right up my alley! Anyone that knows me will tell you that I'm a wrapping paper fiend! I buy tons of it every Christmas, even when I have bunches left over from the year before. I also go overboard on birthdays, anniversaries, Valentines Day, and any other days or holidays where I can get away with giving someone a pretty wrapped gift. Oddly enough, though, I always forget to buy tape…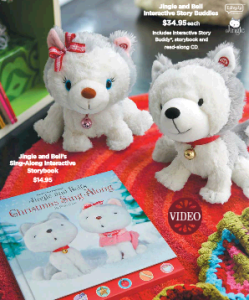 Jingle and Bell! I was looking at these a couple of weeks ago, and I absolutely fell in love with them. They were a little on the pricey side, though, so I didn't pick them up. I've been thinking about grabbing them ever since, though, just because they're so darn cute! I just might print my coupon and head over to adopt two new adorable (stuffed) puppies…
What are you going to use your coupon on?
There are a few things to keep in mind about this coupon. This coupon is good for a discount on full-priced items only, and it expires on December 24th, 2o13. There's also a limit of one $5 off coupon per customer and they have identical UPC's when they print, so no using this one twice.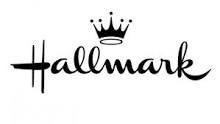 This is a sponsored post by Hallmark. All opinions, words, and views, however, are my own. Which means I'm probably on my way out to get Jingle and Bell soon…