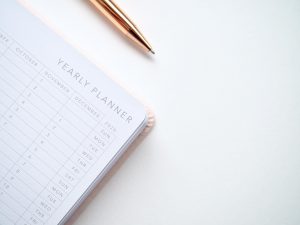 There is nothing like the chaos of back to school to give us a reminder that we need to get more organized. Am I right? I swear when back to school comes around I am always feeling like I just don't know which end is up. Between shopping for all of the clothing and supplies they need, filling out all of the necessary paperwork and trying to figure out how to make everyone's upcoming schedules work together, there's a lot. 
One of the ways I have found that helps to ease this chaos a bit is by using a planner. For years I struggled with this, I would buy a planner, get all excited, use it for about a week and then forget about it. Once I stuck with it though, it made a huge difference in my life! The benefits of using a planner are plentiful! 
5 Benefits of Using a Planner
Helpful Reminders
As I get older, I find myself more and more forgetful. I think it has something to do with my chaotic schedule. I have found that when I write things down and have my schedule at the ready I am far less likely to forget something that needs to be done. 
You Can Make Exercise a Priority
When you put self care and exercise on your schedule, you are more likely to actually follow through and do it. I have found that having a planner is very helpful for my own health. 
You Can Make More Time for Fun
Be sure to put relaxation and fun time onto your schedule in your planner and you'll find that you actually do them. This time for yourself is imperative to good physical and mental health and they are equally as important as any other appointment in your calendar. 
Helps you to Feel Accomplished
There is nothing quite like checking things off of your to-do list and when you write down your schedules and responsibilities into a planner, you can look back at it at the end of the day with a great feeling of accomplishment.