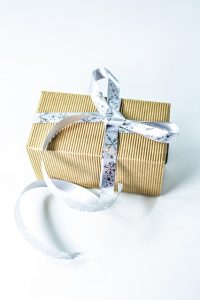 How many Christmas' have you celebrated as an adult? How many of those Christmas' have been stressful? I'm going to go out on a limb and say a lot of them probably have. The holidays are stressful. Part of the stress comes just from the business of the holiday season, part comes from family (let's face it, not everyone looks forward to those family gatherings), and last but most definitely not least is the financial aspect of needing to buy gifts for everyone on your list.
Let's work on making the financial part of it less stressful this year. We can do that by focusing on spending less money on those gifts that stress you out so badly.
Here are 5 Christmas gifts that cost you almost nothing that you can get to help ease your budget this year:
Photo Prints

. Walgreens often offers free or cheap 8×10 photo enlargements. On several occasions I have used these to get prints made for gifts for the grandparents. I will buy a dollar store or cheap Walmart frame to go with it and it has always been a hit.

Cards.

Why not skip gifts altogether and just buy Christmas cards? I always take advantage of coupon code deals and score personalized cards for $0.50 or less each. Which is quite cheap for a gift.

Baked goods.

Bring me a plate of cookies and you have my heart. Seriously. I would way rather get baked goods than most any other gifts. Plus, I know you made it with love.

Sugar Scrub.

These are awesome gifts and can be super cheap! You can make them with sugar and coconut oil, plus essential oils. Or, you can make them with sugar and dish soap as well. So cheap!
No gift at all. C'mon, we are all adults here. We understand that budgets are sometimes stretched too thin. Sometimes it's okay to chat with the other adults in the family and call off gift giving for the adults.