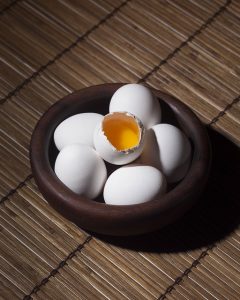 With the holidays fast approaching, we are going to start seeing lots of deals on eggs!  I just bought 5 dozen at 75 cents per dozen if that tells you anything.  In my family we actually use a lot of eggs, so 5 dozen will only last us a week or two, but what if you don't eat eggs every day?  How can you take advantage of these deals without letting the eggs go to waste?  Well, we have put together a little list for you.
Here are 5 easy ways to use up your extra eggs:
Boiled eggs.  Boil eggs a dozen at a time and you have a quick and easy snack on hand.  These are also good for sending in your cold lunch.  Plus, they are low calorie and full of protein!  Great for those low carb diets that are so hot right now.
Egg salad sandwiches.  Take some of those boiled eggs and mix them with mayo and your other favorite ingredients to create some delish egg salad sandwiches.  Perfect for lunchtime!
Use as salad topping.  I just love boiled eggs on my garden salad, don't you?  This is a great way to add in some protein for days when you just feel like eating a salad.
Egg sandwiches.  Fry up an egg and place it in a biscuit or english muffin with some cheese and meat (optional).  Again, this is an easy lunch idea or a breakfast surprise that your family will love.
Freeze them.  Head to the dollar store and buy a couple ice trays.  Crack open an egg into each ice cup and freeze them.  Pull them out when you have a recipe that calls for eggs.  You can also separate them before the freezing process for recipes that call for just egg whites or yolks.