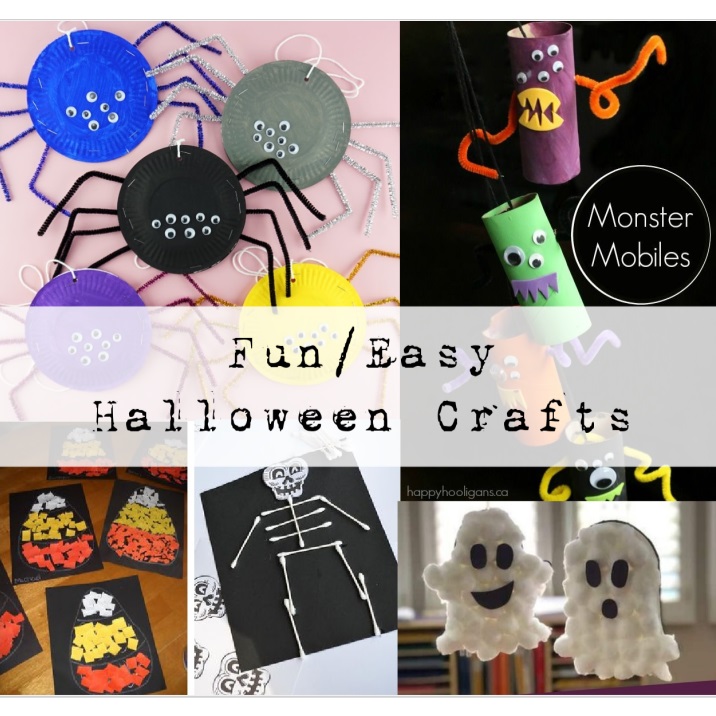 Halloween is just around the corner. My kids have been counting down the days so I thought it would be fun to through together some fun Halloween crafts for us to do over fall break. These are easy crafts that you probably have all the supplies for at home making them perfect for mom and the kids. Now the tough decision, which one to make first?
Halloween Paper Plate Spiders – this is one kids of all ages are going to have fun with. Each kid can pick their spider color and paint their plate. Then find pipe cleaners to match and attach them using a stapler. Glue on your googlie eyes and your set. You can place them around the house or hang them from the window.
Monster Mobile – I made these with my daughters kindergarten class and they all loved them! It's a great way to use up and recycle toilet paper rolls! I found the best thing was to pre poke a hole for the pipe cleaner so the kids could easily slide them through.
Q-Top Skeletons – This was another activity I've done with a kindergarten class. All you need to do is print out the skeleton heads for them to glue on top of their q-tip bodies!
Candy Corn Craft – Another simple craft to throw together for your toddlers/kindergarteners. You could even give them the option of tearing the paper themselves.
Puffy Ghost – This craft is one the littles will love. I like to put the glue on a plate for them to dip the cotton balls into making it easy to fill up their ghost.