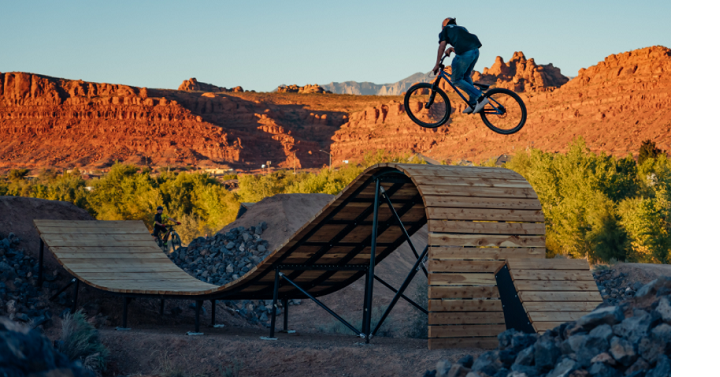 St. George, Utah is one of the most beautiful places to visit in Utah.  We recently returned from St. George and absolutely loved it. It's a place where we love to spend our time outside. There are a lot of fun things to do like biking and hiking or just playing at a unique park. Here are 5 fun places you could visit the next time you visit St. George, Utah.
Snake Hollow Bike Park. This is a relatively new bike park that has some fun trails. There are hundreds of features and four skills zones: Rattler's Revenge (dirt jump zone), Snake Den (pump track and skills loop), Venom Drops (gravity skills) and Sidewinder Slopestyle (gravity jump trails). This is such a fun place to visit. Our kids could have stayed there for hours.
Thunder Junction Park. This park is the best that I've seen in the whole state! It's fun for all ages. You can also ride a fun train around the park for a small fee. This is an all abilities park which is made for those who need accessibility to the park.
Pioneer Park. This is seriously a favorite for our whole family. This isn't the typical park. It's a rock climbing adventure in open space. While there be sure to clip to the top and see the beautiful view down below. Make sure there is parental supervision while climbing. There are steep ledges, so you'll want to climb together as a family. My little 3 year old even loved climbing around the red rocks. You can find the location here.
Sand Hallow State Park. This state park has both sand and water. What more could you want? Bring your sand toys or small boats and enjoy this park with the family. If you are visiting during the summer months, this is a refreshing place to visit and cool off. You can find more information here.
Red Cliffs National Conservation Area. If you want more of an outdoor, camping or hiking adventure, be sure to check out this area. There are camping areas that are absolutely beautiful. You can also do a day hike. We have been to Sand Cove and it was so fun. Bring your sand pails and play in the sand or go on little hikes around the natural beauty. More information can be found here.