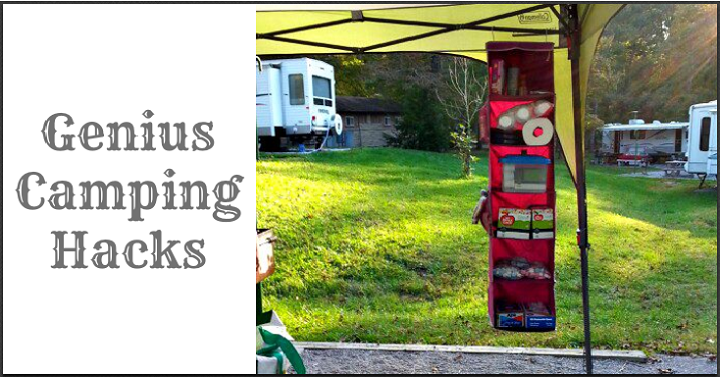 Summer is the season for camping are you ready? I love camping, but I feel like each time I'm a little unorganized and things get everywhere! Here are a few absolutely genius camping hacks that will keep me both organized and happy while I'm enjoying nature.
Pre-Scrambled Eggs in a Bottle. This is awesome and super easy. I'm always trying to keep my eggs alive while transporting them to our camp site. This way you won't have to worry about accidentally cracking them. You can pre-mix them and keep them nice and cold. Then have it ready to pour for your meal.
Use a 5 Shelves Hanging Closet Organizer.  Do you need a little help organizing your kitchen items while camping? This would really help you out and it's super easy to set up and store. Amazon has them for a good price here. 
Hand Washing Station. This is essential if you have little kids who get super messy while camping. It's nice to to have a spot to clean up quickly before you eat your meals. This is super easy and you may just have everything you need at your house.
Toilet Paper Holder. Grab a folders or hot chocolate (big) container. Stick a roll of toilet paper in it and cut a whole to let it go through. Super easy and it won't keep falling in the dirt!
Use Pencil Boxes to Keep your Utensils organized. If you are like me, I like to have colored coding for items so I can tell what they are at a glance. Grab a couple of pencil boxes from the dollar store and use them for your spoons, knives and forks. Easy and they have a lid!
Do you have any camping hacks that you love? I'd love to hear them in the comments.