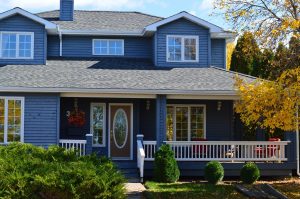 It's not enough to have a home alarm anymore and unfortunately property crime is on the rise. Lucky for us though, there are quite a few super cool products out there that will help to prevent theft and break ins. 
Many of these items connect to your phone so that you can be alerted of an issue even if you are away from home. I can personally vouch for the following items and how they have worked for me. Unfortunately, in my community there have been multiple break ins lately and we wanted to make sure that our home wasn't on the list of those that got broken into. 
5 Items To Have in Your Home to Prevent Theft
These are the items that I have personally used and have found to be useful in protecting my home. While I can't say that they have specifically prevented a break in, I do know that they work! 
Glass break detectors are awesome because once you get them set up and in use, you will get a notice on your phone if they detect glass breaking. This is great because oftentimes thieves break in through windows and if you know a window is broken, you can call it in to the police. 
Okay, in all honesty, I don't have a glass break detector, but we discovered that our Amazon Alexa offers it! Our kids were home alone one day when I got a "breaking glass detected" alert on my phone. As it turns out, they were just watching their movie a little bit too loud, but it works!
The Ring Doorbell Camera is great for alerts letting you know that someone is near your door. It's also great because it allows you to speak through it. This has been helpful to me when strangers appear on my porch and I am able to talk to them as though I am home. 
These are pretty cut and dry, but they work. Once your window opens, a loud alarm will go off and boy are they loud!
Never hide a key again! Smart locks are awesome and they keep you from having that cheesy rock or silly hiding place that most thieves can easily find.