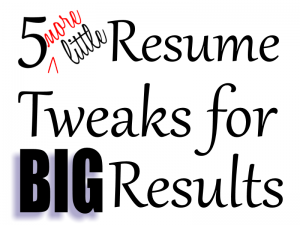 Are you still working on writing and tweaking your resume? Yesterday, I outlined five little resume tweaks to get you a better response from potential employers. If you're still not satisfied with your resume, here are a few more resume tweaks you can try. Each little tweak should only take a few minutes, but together, all of these little changes can have a big impact.
1. Use a Different Resume Format
When you write a resume, you probably use a chronological resume format, which is typically the most common. A chronological resume is basically just a chronological list of your work experience and professional accomplishments. In some cases, however, you may want to use a different format, such as a functional resume format or a combination of the two. A functional resume focuses more on your skills rather than your work history and usually works best for individuals with gaps in employment history or those who are changing jobs. I prefer a combination of a chronological and functional when I write a resume, however. When writing a combination resume, you can highlight your skills and strengths first, then simply list your previous employers and employment dates.
2. Don't be Afraid of Color
No, you really shouldn't use hot pink paper and bright fonts when you write a resume. A little color on a resume isn't always a bad thing, though. Headers, for instance, pop when you use a bolded dark blue font. You can also use a dark colored font for your name. To make your name pop even more, use a slightly larger serif small caps font.
3. Use Bullet Points
Never write a resume without bullet points! These simple typographical formatting marks make lists so much easier to skim and read. When using bullet points on a resume, however, make sure you use them consistently throughout the whole document. For instance, use bullet points to list skills, professional accomplishments, and employment history.
4. Go Digital
Paper resumes are traditional and great, but you could get more reach with a digital version as well. Consider posting your resume online on websites like LinkedIn. You should also create a PDF resume that can be emailed to prospective employers as well. Unlike Word documents, PDF documents can be opened on just about any computer. Clickable links for your email and online professional profiles can also take your PDF resume to the next level.
5. Add a QR Code
One little detail that can make your resume stand out and give you a competitive edge is a QR code. A QR code is a type of barcode that can be scanned by smartphones. The QR code on your resume can be decoded and take potential employers to your online resume or portfolio, or bring up your contact details. Just be sure to include exactly what the QR code on your resume will do. Several websites enable you to create a QR code for free, including The QR Code Generator and QR Stuff.
More Frugal Living Resources: