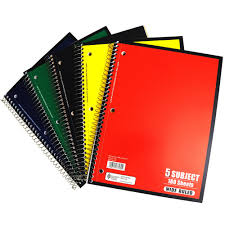 Is the sight of the long back to school lists making your heart pound this year? Are you wondering how you're going to pay for it all?
When money is tight, getting all of the school supplies that the kiddos needs can be a daunting task. You don't have to spend tons of money to get your kids all of the school supplies they need this year, though. There are lots of different places to find cheap school supplies. You just need to know where to look…
#1. Walmart, Target, and Staples
A few of my favorite stores to grab cheap school supplies include Walmart, Target, and Staples. Every year I find super cheap school supplies, like 17¢ notebooks and 25¢ pencils. Before you look anywhere else, make sure you hit one or more of these stores first. You might be surprised just how cheap school supplies are there.
#2. Dollar Tree
The next stop for cheap school supplies is my local Dollar Tree, because – well, because everything's a dollar! Although you can typically find some items like notebooks and pencils cheaper at other stores, you can usually find other cheap school supplies at your local Dollar Tree. Look for five-subject notebooks, binders, and lunch boxes. Some dollar trees even have basic clothes for a dollar!
#3. Thrift Stores
Don't forget the thrift stores when you're looking for cheap school supplies! I know that my local thrift store usually has some brand new (or like new) school and office supplies like pencils, binders, rulers, calculators, and backpacks for super cheap. While you're there, you might also want to pick up some gently used back to school clothes.
#4. Clearance Shelves
Always check the clearance shelves in your local store when you're shopping for school supplies. You might be surprised to find all sorts of cheap school supplies like planners and novelty pencils, among other things. If you're able to, you can also wait until a few weeks after school starts to do the bulk of your back to school shopping. Many stores will deeply discount school supplies in order to get rid of them quickly.
#5. Schools and Churches
If you live in a low income household, you may want to consider asking your child's school for help. Many schools have programs to help needy families get free or cheap school supplies. The same is true for local churches, which often give donated school supplies to needy families in the area.
What are some of your favorite places to find cheap school supplies?
More Frugal Living Resources: